At 26 weeks pregnant, I've had nursery looks on my mind in a big way. Actually, with my almost-three-year-old moving into a new room so baby can occupy the nursery, I've been thinking multi-room makeovers. In researching ideas, I've come across some of the cutest places and spaces.
Places to shop for unique and adorable elements. Spaces made from these cutie elements. I'm excited to share a few of my favorite links as well as my own projects inspired by these links here! But first, let's talk trends.
3D Art Trend
In seeking out ideas, I started noticing a trend: 3D wall art. Sure, gallery walls of artwork and photos are still very popular, but those are being enhanced by adding items with more depth, such as decorative shelves, wall hangings, garlands, and more.
Studio 5
I shared five projects I made that were each inspired by this trend today on Studio 5. You can view the segment here.


Decorative Shelves: My Take
To create my shelves, I simply added a little acrylic paint to some inexpensive wooden crates, which I picked up at Michaels and Wal-Mart. I masked off where I wanted my paint to end using painter's tape and then applied my color. So simple! And now I can hang these up for a fresh take on shelving.
Decorative Shelves: Shopping Links
Mox Kids Offering both hexagon shelves and happy houses, this is a great stop to make if you're in the market for sassy shelving.
Textured Garland: My Take
Search "kids rooms" and you're bound to see garlands galore. They're so playful and make any wall happier. Wanting a very textured garland, I opted to combine wood beads, handmade yarn poms, and handmade yarn tassels. I then wrapped it around a twig from my yard. This little piece is now ready to hang. I just need to decide what to perch on top of the twig. A small stuffed animal, perhaps? Or maybe letters spelling something, like the sweet idea in the shopping section below. Hmmm... So many possibilities....
Textured Garland: Shopping Links
Essi & Co. Add a little twinkle to those walls with one of their charming star garlands!
Image Credit: Essi & Co.
Cloud Hanging: My Take
This puff started its life as a basic wire coat hanger. My husband and I tagged teamed this one, using wire cutters and pliers to shape it into the cloud design you see before you. I then used a puffier yarn to wrap the cloud a couple of times. After all, clouds need fluff. For my rain, I strung up some felt beads, a handmade yarn tassel, and a couple of handmade poms.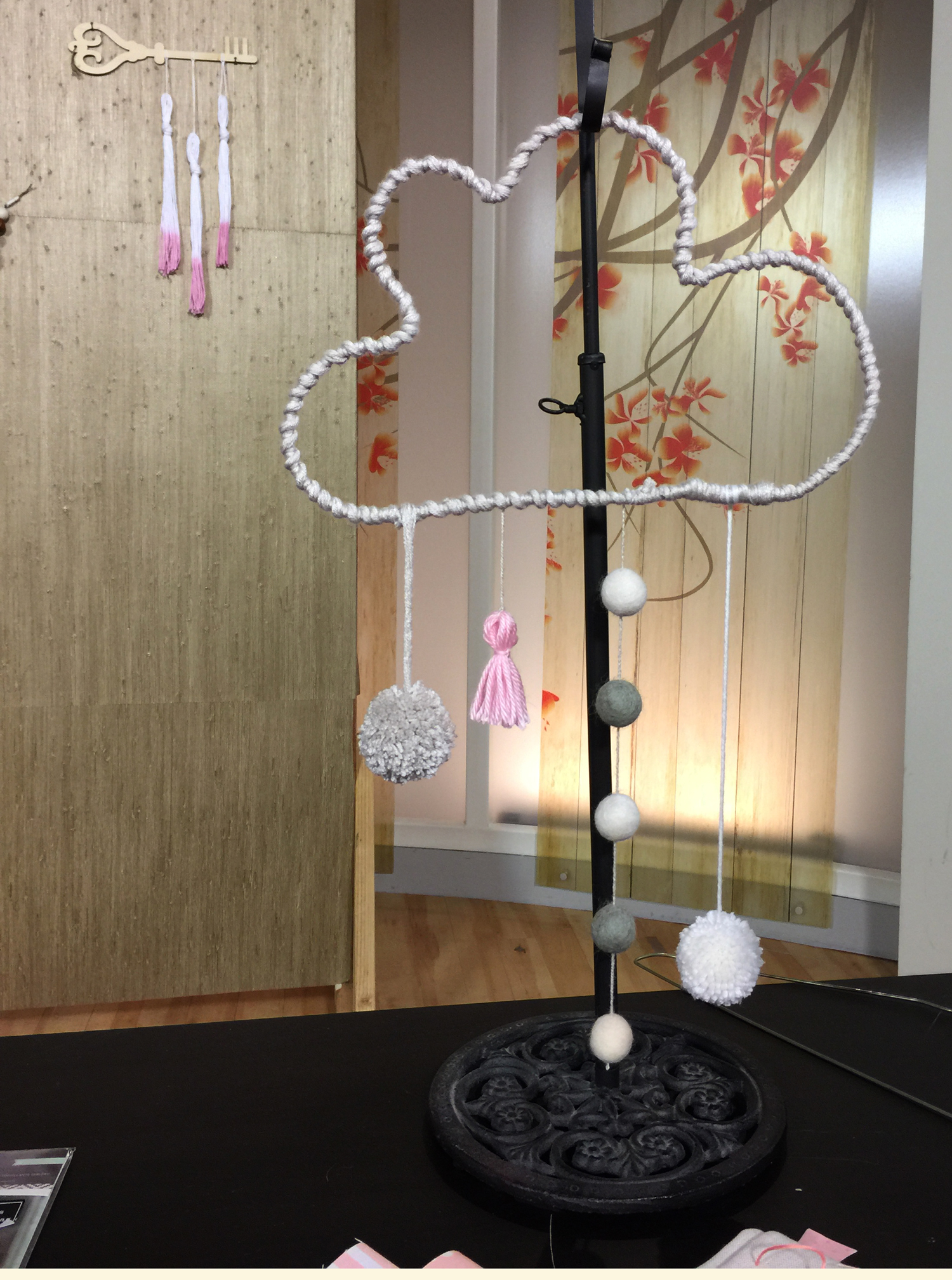 Cloud Hanging: Shopping Links
Noodle Doll Nelly This Etsy shop is like a catch-all of the trends covered here. She has excellent signs, garlands, and, of course, cloud hangings. *swoon*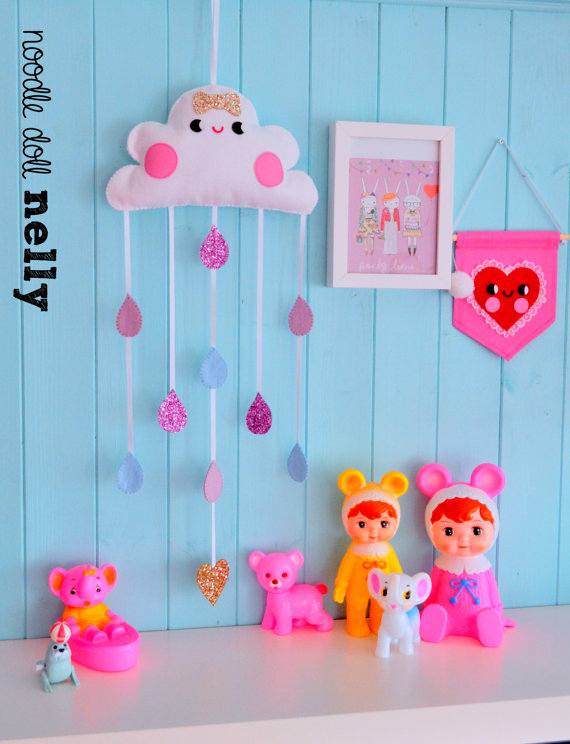 Image Credit: Noodle Doll Nelly
Fabric Sign: My Take
She is love... She is all I need... I just adore the lyrics to this song. So I decided to make it the statement on this fabric wall hanging. This is such a cool trend. It seems to be the next way to add words, phrases and names to your walls, and it's a terrifically textured approach.
For my sign, I cut a piece of linen and stitched the sides back (using my sewing machine) to give it a clean finish. I then freehand-stitched the "she is" using a needle and some embroidery floss. If freehanding freaks you out, you can always lightly write your words on your fabric first using either a disappearing ink pen or a pencil.
For "LOVE," I applied stickers to backed fabric (fabric I had ironed fusible webbing to) and cut around the sticker templates. You could easily die cut your letters or freehand-cut them as well. The key here is the iron-on webbing. My favorite is by Therm O Web.
For the heart, I simply cut untreated fabric into a heart shape, used fabric glue to mat it on felt, cut around the felt, and stitched it into place at the bottom of the sign.
The final touch: a dowel. I stitched a pocket across the top and slid my down in, adding a little embroidery floss and a tassel to complete the design.
Fabric Sign: Shopping Links
I have two links that I adore.
1. Little O & Co. Her work is ADORABLE! She does signs with sayings, names, and motifs. Simply tell her what you want or check out her ideas in her awesome shop.
Image Credit: Little O & Co.
2. Sharp Tooth Studio With both sports pennant-style and this hanging style, you have may excellent options to choose from in this fab Etsy store!
Image Credit: Sharp Tooth Studio
DIY Links
Want to make your own yarn tassels or puffy poms? Here are a few links that should help:
1. Tassels
2. Poms: A YouTube Video
Note: I used the pom pom maker from Clover to create my poms, which you can get at most major crafting stores. I used the Large size for the poms shown in this segment. Though, the small makes a pretty cute pom, too!
Studio 5 and You
Thanks for checking out my ideas. I hope they leave you inspired to make your own on-the-walll statement soon. If so, I'd love to know what you plan on creating. In the meantime, I invite you to check out my Studio 5 segment for more details on my project and to see them in action.